Randall McCoy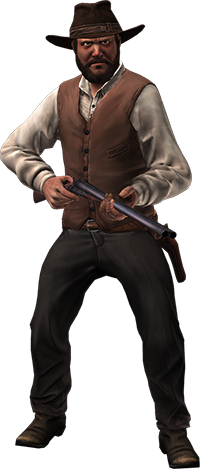 Randall "Ole' Ran'l" McCoy is the head of the McCoy family and a devoutly religious man. He's a veteran of the Civil War where he fine-tuned his combat skills. Part of his time during the war was spent as a POW which affected him greatly. Randall returned happy to see his family and happy to avoid conflict.
Sadly, conflict would end up being what he was known for. His brother Asa Harmon McCoy had fought for the Union, which was frowned upon by everyone in the area, including the McCoy family. Jim Vance took the matter into his own hands and tracked down Asa and with the other Logan Wildcats, put an end to him.
Randall reacted as any brother would. He wanted vengeance and justice. Unable to receive it for his brother's death his disgust with the Hatfield's grew. Incident after incident followed including land disputes and hog theft. In the end it resulted in Randall entering a war with those he considered brothers. His fury is burning hot and he believes he is in the right in his grievances against the Hatfields.